We have over 10 million players, and a large part of our success is from in-app polls. Instead of guessing, we can pinpoint exactly what causes frustration. polljoy is our competitive advantage.

  Simon Newstead, CEO & Co-Founder, Frenzoo
Game devs of all sizes use polljoy. Following are example polls.
Discover why players leave / retention
What's frustrating you right now about this game?
Is the content in this level too repetitive?
Are you bored with the recent levels?
Are you confused by the goal of this quest?
What would keep you coming back even more?
What's stopping you from continuing further?
Appstore ratings
Do you love this game?  (If yes follow up with a rate request)

Rate this game and get 50 free rubies!

Like to rate our app so we can keep free updates coming?

Share the love and rate us now!

Want to support the developers of this service?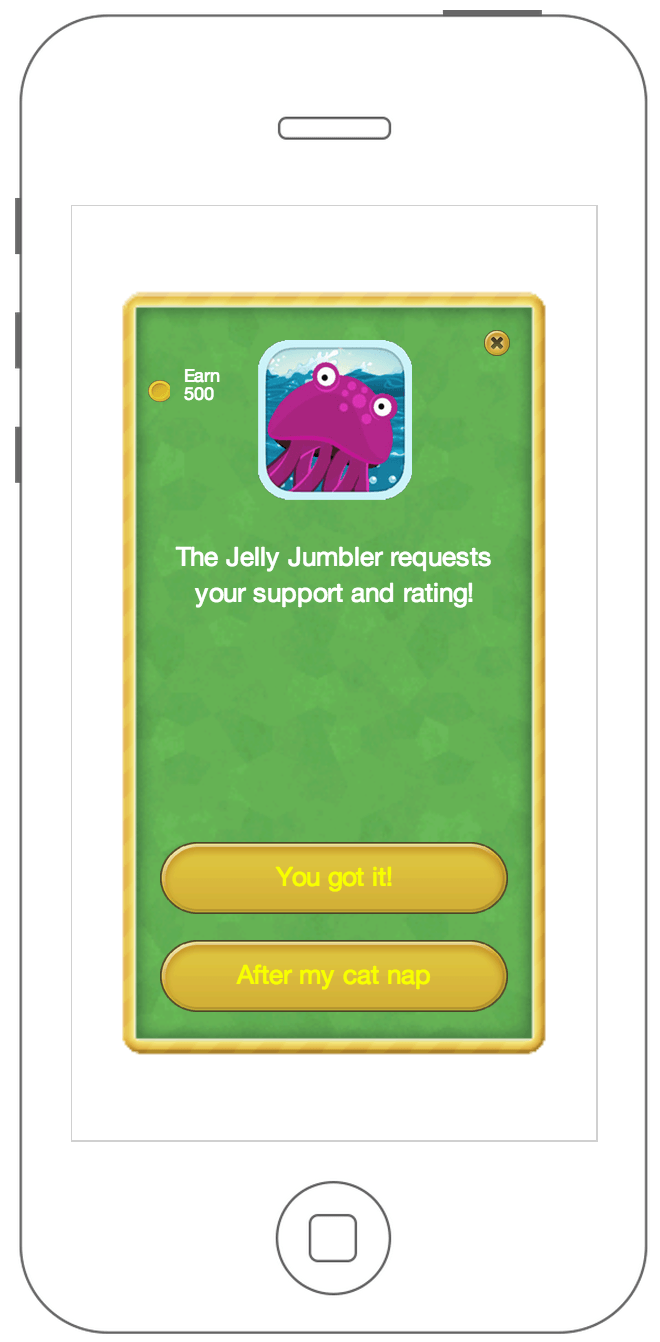 Encourage word of mouth
Want to spread the love for us on Twitter?
Share our Facebook page and help build our community
Congratulations Vicky for being this month's top fan - who's next!
Check out our new YouTube trailer!
Enter an email of a friend and we'll update your storage!
Connect with other fans on our Facebook page!
Cross promotion
It's here! Want to try our new game?
Here are some of our other apps – want to try them?
Like to try the tropical island version?
Want to start a free trial of our new service?
Content suggestions

Here are some shop items you might be interested in?

Which quest shall we start with first?

Our top ranked members – tap to view their profiles

Which story do you want to play first?

Which bonus character shall we send to you?
Product feedback
Which of the following features should we add next?
What did you think of that part of the game?
What frustrates you most about the setup process?
Which part of this world do you find most interesting?
Do you know how the team selection works?
Why they purchased / monetization?
What made you want to buy rubies in our game?
What convinced you to purchase the shoes?
Are you happy with your purchase?
Which part of the premium package did you find best?
Why did you speedup the building process with credits?
User research
How old are you?
How did you discover our game?
What other games do you play?
How many devices do you own?
Are you an active twitter user?
Bugs and helpdesk
Experienced any bugs or crashes in this game?
Was the gameplay laggy in this contest?
How was the loading time starting this game?
What were you doing before the problem?
Do you see duplicate products in the shop?
Game balancing
Are you frustrated by the difficulty on this level?
Did you feel your opponent in PvP was of a similar skill?
Would you prefer a harder mode?
If there was an shield booster for 45 krons, would you get it?
Here's an extra 200 farm tokens for making it to the tractor
Image polling
Which app icon do you love best?
Which of these products is most appealing?
See the concept art – which character shall we add to the game?
Which weapon do you think is more powerful?
Is there a background you want to apply now?
Concept testing
Would you prefer the expansion to be island or mainland based?
Do you want to see a different game featuring Sally?
If we build a share video function, which networks should we add?
Does your child read more than twice a day?
Want to see a mockup of our new social battle feature?
Community management & promotions

You're on the new version – want to see what's new?
Our mystery mantle event has started, join now!
Summer sale has started! Want to see the specials?
We'll be adding photo scrambling next update!
A new level was added – want to check it out?
Mailing lists etc
Would you like to join our mailing list?
Enter your email to get notified about all new games
Follow us on Twitter?
What address shall we send the welcome pack to?
Placeholder UI & tutorial
Now let's explain how this feature works
Congrats! You completed the tour – where to first?
Are you a girl or a guy?
Back to home or try this quest again?
Seasonal messages
To all the amazing moms out there- this is your day!
It's halloween, here have a pumpkin gun!
Want to view the Christmas special offer?
It's back to school – how are you feeling about it?
How will you be spending New year's eve?
BONUS – How polljoy uses polljoy!
Ready to get meta?  We're also an active user of polljoy which helps us learn more about our awesome developer users and how to make the service even better! We may be biased, but we love it and find it very helpful!  Here are some questions we've run:
What interests you most about polljoy?
Which platform do you develop on?
Found any bugs on polljoy?
What suggestions do you have to make the service better?
How many virtual currencies do you use in your game?
---
…and much more!
To begin, first create your free account
Need advice on what to ask? Drop a note to hi@polljoy.com - we'd love to help!